About
Weston is a community that has struggled with issues of physical isolation; a small village with a fierce sense of independence, encroached upon by the large cosmopolitan city that surrounds it.
In December 2014, the Weston Branch of the Toronto Public Library celebrates its 100th year of service, in its current location, to the community of Weston, Ontario. A partnership between the Weston Historical Society and the Toronto Public Library was formed in celebration of the Branch's centenary, with the desire to engage seniors and youth in a project that would allow them to relive the rich history of the Weston community.
This newfound partnership has allowed Weston's seniors to share their memories of the Weston Library and community with youth – to transfer experience and wisdom to the new generation of Westoners. The intergenerational aspect of the Weston Library Centenary Project strives to foster community building through local history awareness.
This project was funded by the New Horizons for Seniors Program, a Canadian federal government grant supporting pan-Canadian and community-based initiatives that are geared towards encouraging seniors to make a difference in their lives.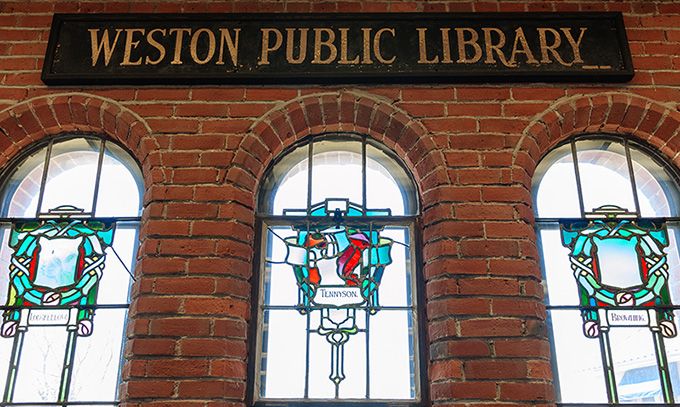 An image showing the stained glass windows on the south wall of the branch, overlooking Weston Road. (Courtesy: Toronto Public Library)
"...It's not so much as achieving a number, whether its 75 or 85 or something like that. It's what happened leading up to 75 or 65 or 50 that's important. […] An important component for me would be an examination of the achievements during the last 50 years… because there are lessons and guidelines and sources of inspiration if you look at achievements."
Michael McDonald, Weston Library Centenary Project Interviewee